Robert Vargas YEAR OF THE CAT at Bailey Gallery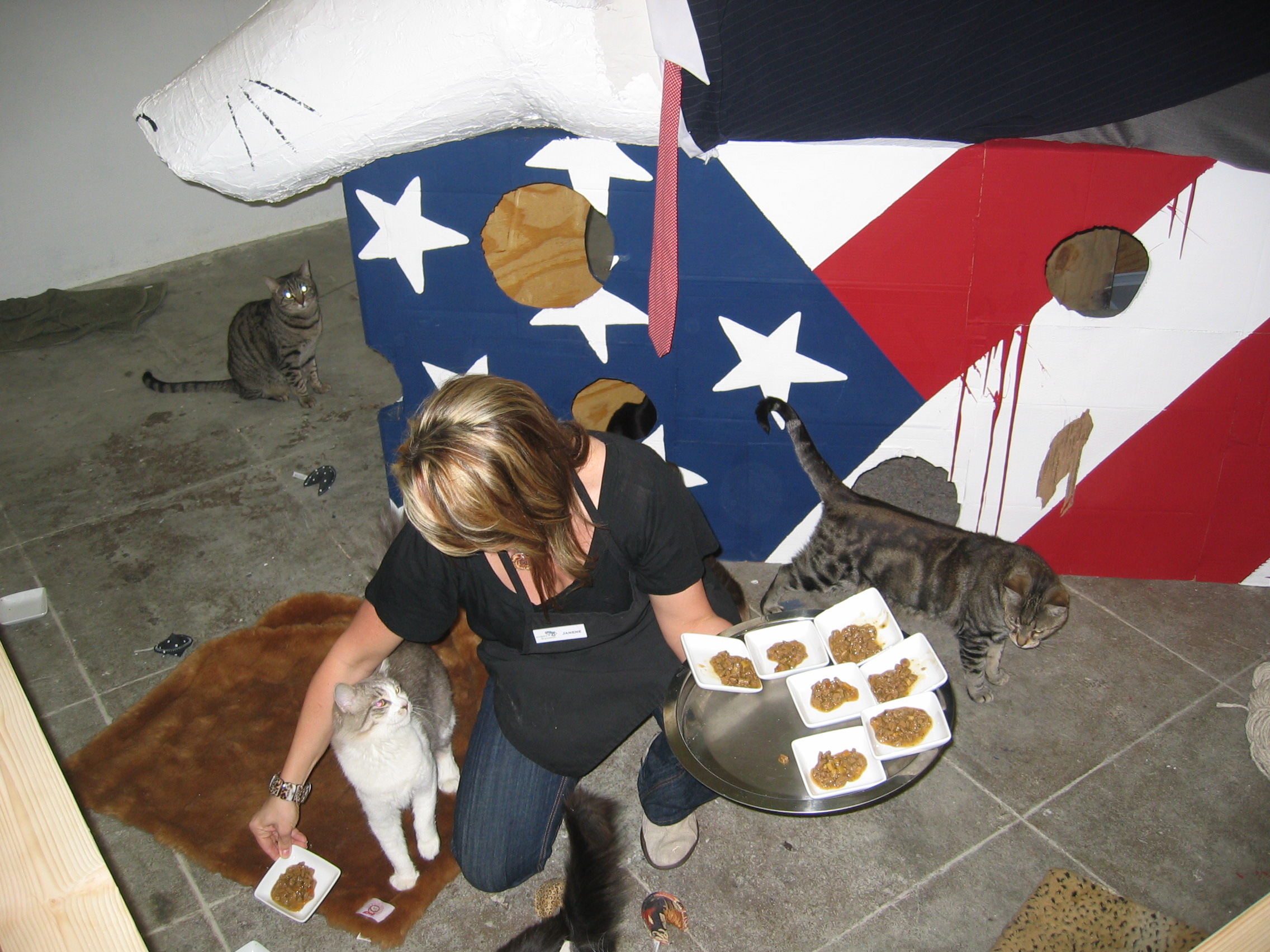 Year of the Rat? or Cat?
We were excited to unleash the work of
at this month's
. Here's a little info on the work from the artist...
Live, interactive sculptural installation from Robert Vargas explores America's most important idea. Adopt these ideas by adopting a Freedom Cat! A towering rat is attacked by a herd of cats who are tired of the vermin hogging the cheese. In the background, the mis-speech of the leader of the free world provides a humorous, but also harrowing, commentary on the state of the union. The question is "Are we ready to take freedom back?"
Robert Vargas, fine artist, thinks so. Year of the Cat, his latest work and an interactive sculptural installation featuring live cats, comments on the hope inherent in this election year and the feeling that we are ready to get our nation back on track. Also, playing on the downtown rat epidemic, the piece comments on how already people are taking back downtown Los Angeles and transforming it into a haven of art and neighborhood cooperation, not just commerce.
The playfully dubbed Freedom Cats are up for adoption, courtesy of the Bark Avenue Foundation, who are dedicated to rescuing homeless and abandoned animals. Patrons of the arts and politicos can bring a piece of the installation home and be reminded that change takes action and engagement. The show takes place inside the new gallery within the high end pet store Pussy and Pooch. This is the first show under the gallery's new name: The Bailey Gallery.
Our freedom is up for grabs! Join in the battle over America's most important idea on March 8 from 7-9 p.m. and on March 13 from noon until 10 p.m. (during Downtown's Art Walk).
Come see this extraordinary collaboration of installation, art, and cats before they make it to new homes!