Yorkies Meetup at Pussy & Pooch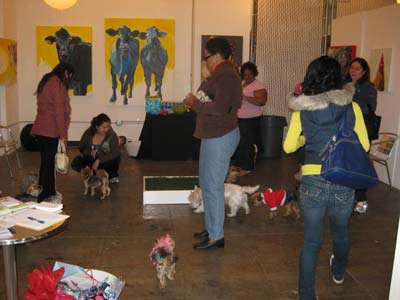 Over the December holidays a large Meetup group of Yorkies from Meetup.com had an event in the Bailey Gallery. In a sea of thiry-five (35) Yorkies it was hard not to have fun at this event. There were tasty treats for the Yorkie's and their parents and refreshing beverages all around. Games, tricks, and just plain fun highlighted this event for the breed to get down and boogie with their doggy buddies. An attendee gave the event four paws up and said she wouldn't have missed it for a steak. A big thanks to those who came out and really made this event as radical as it was.
Make sure to set a date for your next meetup group event to be hosted at Pussy & Pooch for an event worth barking for! Call Pussy & Pooch today to arrange your next party.
We tried taking more photos but good luck trying to get 35 Yorkies to sit still. You can see the Yorkies Pics Here ~ Yorkie Photo Album