Purr-fectly Sweet at 16 | Minxx the Cat - Upcoming Birthday Celebration
When we launched the Meow Mingle Cat Social series last year, we kicked it off with a special feline birthday celebration for Minxx, one of our founding four-legged P&P mascots. We created a festive cat Quinceanera to honor her 15 furry years which was decorated with plenty of colorful peacock feathers (her favorite) and featured a fresh-made liver birthday cake, fresh-made turkey meatballs, and swag and prizes for cats in attendance. This month Minxx turns 16, so naturally we will be hosting a Sweet 16 Meow Mingle cat birthday party for her, and all of you are invited!
Turning 16 is a pretty big deal for us humans, but, for pets even more so considering that the equivalent in human years is 81! Do you know how to calculate a cat's age? It's often believed you calculate with a simple multiplication of 7, however cats mature much more rapidly within their first two years. Want to calculate your cat's age in human years? Use this easy calculator.
Minxx came into my life 16 years ago on a chilly winter day in Ohio. A friend had found her in box, andhe knew I needed a new friend after having just lost a kitten due to feline leukemia at the tender age of 9 months. Minxx has been a very important part of my life ever since. She's been with me everywhere and even today, spends a good portion of the day, by my side in a supporting role. Those who meet her feel her warmth, wisdom, and calm-centered sweetness. It's been a very long journey of friendship and love with my silver and white sweetheart.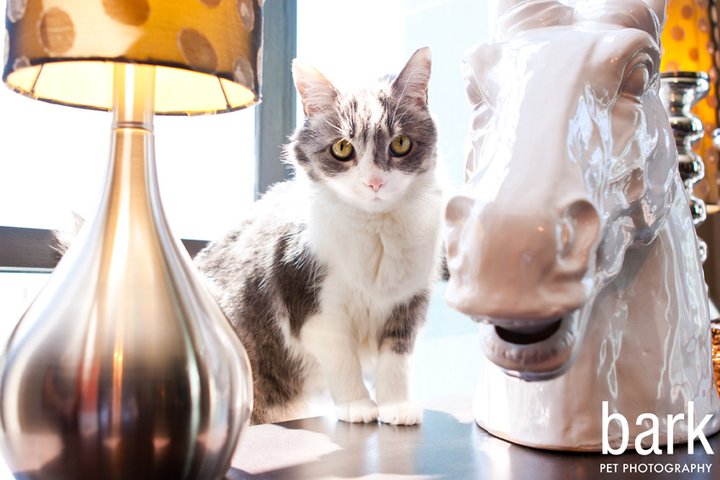 We hope you'll join us with your cats and (human) cat friends at our Sweet 16 Meow Mingle. Frisky felines on-leash, shy kitties in carriers, and cat friendly people sans pussycat are all welcome on Wednesday March 21 from 6-8pm as we
kick-off our first Meow Mingle of 2012 in downtown Los Angeles with our Hostess and Birthday Girl, Minxx.
Sip, nibble, and mingle, plus win raffle prizes, get free samples, and FREE nail trims to all cats in attendance…this will be something worth purring about!
Cat Social FAQs:
Q: What is a Meow Mingle?
A: It's a Cat Social, kitty mixer, cat party, cat people happy hour! See photos and video from our past Meow Mingles.
Q: Can humans attend the Meow Mingle without their kitty? My cat is shy and not very social.
A: Absolutely! It's also a celebration of cat owners. We'll send you home with a kitty swag bag.
Q: Are there catfights? My cat doesn't get along with other cats.
A: P&P is neutral territory, so there is nothing for your cat to defend. All the sights and smells will get the better of their curiosity, but a catfight is not likely. We advise all cats come in their carriers to minimize stress, so if the mingling is 'too much' they will have their own safe space to comfortably observe the action.